Hate, Violence and Megalomania (1/3)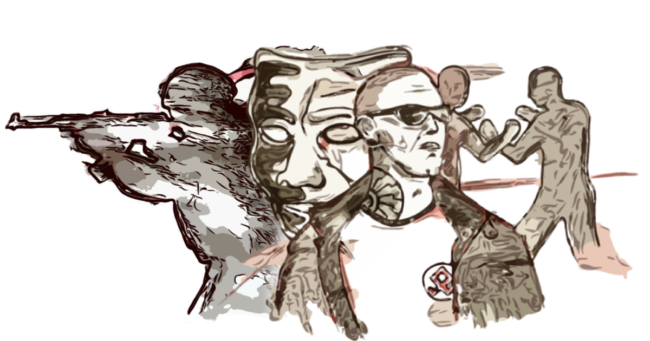 No One Cares About the Obvious (1/3)
By Ferdinand.
Verfasst von Fabian Wichmann und Felix Benneckenstein. German version.
Ferdinand* came into contact with the right-wing extremist movement at a young age. Fed by a one-sided interest in military history and hero worship, he became increasingly radicalised. He was a member of various comradeships and groups. Violence was a constant companion at that time. Finally, his odyssey ended when he left a right-wing extremist brotherhood. Below Ferdinand shares his experiences during his time in the military, hate music and involvement in militant right-wing extremist groups. A time marked by hatred, violence, megalomania – and the Military Counter-Intelligence Service.
The Beginning
I came into contact with the local right-wing extremist movement at the age of eleven or twelve. At that time, it wasn't politics that was relevant to me, it was the military that fascinated me. I read a lot about the military and through my grandfather, got involved with military history. Later, I met people who thought similarly and for whom political issues became increasingly relevant. Political topics then played an increasing role in the conversations with them. I was the kind of person who got his information outside the school curriculum, and so at some point, I confronted my teachers with it. Logically for me at that time, I also began to question German history. Specifically, the Holocaust. I even went so far as to ask elder people if they participated in killing Jewish people during the Holocaust. For me, as a child, it was simply intangible. The search for relevant information inevitably led me to the literary genre that corresponded to my interest. What I found there, however, I felt at the time was very one-sided. It did not correspond to what I wanted to read. My understanding of history was clear and I actively sought to confirm it. So I went out and searched for other literature. The internet was not yet so sophisticated. This led me to ask people around me and I got a hold of the books and information I was looking for.
As time went by, I wanted to show my attitude more and more to the public. The first thing that changed noticeably was my style of clothes. I started wearing T-shirts with right-wing extremist signs and messages. This was followed by discussions and led to physical confrontations with former classmates.
Then there were discussions with my parents and I was partly forbidden to wear certain T-shirts. But it was always explained why – for example, glorification of violence. Except for a few T-shirts, I was no longer allowed to wear my clothes to school. I can still remember a specific situation. One of my "political opponents" at the time wore a patch on his trousers with the inscription "Protect your environment" with a swastika thrown into the rubbish bin. The vice-principal said she saw a swastika there and she didn't care whether it was 'for' or 'against'. She did not want to see that at her school. When the deputy headmistress noticed the patch, he was sent home and I was practically standing next to him because we were involved in an argument. Nevertheless, they could not do anything about certain other prints, only clear calls for violence were sanctioned. Nevertheless, I was later expelled from the school. At that stage, I did have a respective circle of friends and a clear political stance in the violent extremist ideology, but that was still far from an organised right-wing extremist movement. Alcohol also played a big role during this time and we drank a lot and regularly. So regularly that I missed the alcohol when I visited my grandparents with my parents.
We usually met at our local youth club. When I was 13, that was the place that was most important to me. The skinheads from the region met there. Very few of them were politically involved, it was more about subculture and lifestyle back then – which of course didn't mean that we were apolitical. We just didn't have any political connections. Later, that changed too. Some of us, including me, joined the NPD for a while. But I didn't really become active there either.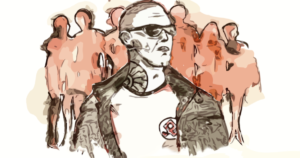 In the German Armed Forces
At the insistence of my parents, I then caught up on my A-levels and joined the German Armed Forces. The option of studying there was also an alternative at the beginning, and somehow it felt like a good move. However, it became clear early on that I would not end up studying. Nevertheless, I had a perspective and enrolled in the Armed Forces.
My older brother was also in the army at that time. He regularly told me about it, even though we were not politically close at all: We shared this interest. I had always found military history interesting. When I arrived at the German Armed Forces, I quickly realised: for many of the people I talked to, it was the WWW II era that was interesting to them. A lot of them were so called closet SA fans. Apart from that, for them, there were only bar fights and politics or, in combination, bar fights because of politics.
At that time, I was politically established and part of the right-wing extremist scene. For this reason, it was important for me to learn how to handle weapons and basically to complete my military training. Today, the German Armed Forces advertise the possibility of helping in foreign missions. But "helping others" was not what brought me there or interested me. But of course, I told the psychologist that that was exactly what was important to me. That I wanted to get to know people or foreign cultures and, of course, help them. Otherwise, I wouldn't have been able to enrol as a professional soldier. In the end, I simply said what they wanted to hear.
Overall, I was relatively inconspicuous during that time, or at least I tried to be. I thought to myself at the time: you're going to do this and not provoke any stress. Nevertheless, there were situations in which my political views were an issue. I was subject of disciplinary proceedings and conversations with the German Military Intelligence Service (MAD). In retrospect, I would say that they should have taken a closer look. It already started with the preliminary medical check-up. I already had relevant tattoos at that time, but no tattoos were noted. I can't say whether it was simply overlooked or not recognised. Maybe I was just lucky from the perspective at the time, because I know many others who had their tattoos noted. Even after this check-up, there were countless situations in which I could not hide my political stance that had been tattooed under my skin. Whether it was in the shower, in the barrack room or in the swimming pool. You couldn't really miss it.
After basic training it was a bit easier: we no longer went to the group showers and the tattoos were thus no longer so easily visible. Some other tattoos were placed in such a way that they did not immediately catch the eye – for example, a swastika on my upper arm. Nevertheless, some of my tattoos were clear at the time – and not only that: they were also forbidden. Once I went to the barracks yard with neo-Nazi music turned up full blast, and that probably didn't go unnoticed either. And still I was not spoken to or reprimanded for this.
No One Cares About the Obvious
Looking back, I have to say that the topic of right-wing extremism was being investigated. Especially when facts became known. Sometimes there were direct inquiries. I remember a bowling evening at a Christmas party. The new platoon leader, a lieutenant, came up to me and asked me about the plugs in my ears. Two "eights" as black billiard balls. He told me then that he knew exactly what they were – and what they meant. The eight, as in the eighth letter in the alphabet H, and thus 88 is a code for "Heil Hitler". I didn't go into it any further. In the end, nothing else happened, but I had the impression that he at least paid attention to it. But no one was interested in or noticed my SA belt buckle, which I wore that evening (as I often did). There was another incident in the swimming hall. A captain there asked me about my tattooed "white power fist". There was a conversation about this on the fringes. In this conversation I denied everything and since it was only the fist – without any writing – I managed to do so. I explained that it was not a "white power" symbol but "something else". They believed me and that was the end of the matter.
At some point, probably because of these accumulated incidents, the Military Counter-Intelligence Service (MAD) also wanted to talk to me. One Friday, I was already on my way home when my platoon leader informed me that two MAD officers wanted to talk to me. I drove back and quickly got rid of my Hitler Youth belt beforehand. During this conversation I was wearing a T-shirt with a slightly modified SS skull and crossbones. On the front it said "Frontline Fighter", on the back was an MP-40 and the slogan "Forward into War". I was wearing a bomber jacket over it, so you couldn't see it easily. The gentlemen probably wondered why I was sitting there in the summer with a thick jacket, because they pointed out to me several times that I could take the jacket off.
The MAD officers drew a life rune on a piece of paper and asked me if I had something like that at home. I said that I didn't have it. To which they replied that everyone has that at home because it is the sign for antenna on the television. Then they slid me the next piece of paper with the number six million and the question "What does this number mean to you". I said unabashedly at the time that it sounded like a good lottery win. They then explained that they were referring to the Holocaust. Neither the conversation nor my T-shirt had any direct consequences. Admittedly, it can be difficult to recognise something like that right away. If I remember correctly, they also asked and I explained that it was a rocker shirt. I was also asked very specifically about right-wing biker clubs. I said that I had never heard of them.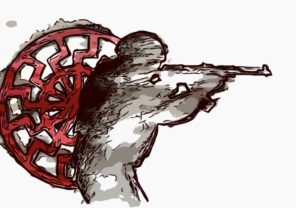 What Do You Think About the Holocaust?
Basically, the conversation consisted of two parties who thought very carefully about what they said and how. If I had been asked: "What do you think of the Holocaust?" I would have, of course, like pretty much everyone in the movement, appeased them accordingly. I would even have twisted my ideology and said that it was a great tragedy that must not be repeated. Even if I thought differently at the time, it was what they wanted to hear and what would have put me out of danger. Yes, I wasn't like that at the time, saying "I'm the rebel – at all costs". But the gentlemen from MAD also probably expected that and for that reason deliberately didn't ask me so directly.
Within the scene, this topic was of course assessed and discussed differently, but in personal confrontation and in public, people were naturally more careful. Self-protection or the danger of being prosecuted was too great. All in all, the instrumentalised handling of the Holocaust and other historical topics in the neo-Nazi scene is very contradictory: on the one hand, people try to honour the legacy of National Socialism and, they see themselves as obliged to the "truth", as part of the whole. It is not the individual that counts, but the idea, the people, the worldview. On the other hand, one denies all this when it comes to oneself. Then the "we" becomes the "I" and the idea, the ideology becomes a phrase adapted to the situation. And to be honest, this was not just an experience that I could pin on myself, but I also saw these contradictions in the actions of others. With a few exceptions, you are your own worst enemy.
I still remember one event. Comrades and I fell asleep in the barrack room and the music of the neo-Nazi band "Landser" kept playing. When the sergeant-major entered the room, I didn't move and pretended to be asleep. He then swayed to the rhythm of the music. I thought there would be a problem now, but he then just left and the scene was not discussed further. I can't say whether he knew the song, but at least "Landser" sings in German.
Overall, it was strange: on the one hand, obvious things, tattoos or shirts were tolerated or officially "not recognised", on the other hand, people positioned themselves against right-wing extremist narratives. There was a saying, for example, that if someone did something particularly neatly, they would say "that's German". This was immediately followed by the remark that this did not mean what someone in the parlour might think. Whatever someone else might have thought, these images or stories were normal. On the other hand, it was basically not so easy to walk through the barracks with appropriate symbols or an obvious attitude without consequences.
Ultimately, however, this also shows my own history. I was in the German Armed Forces for a total of several years, I was trained there in a specialised unit and actually wanted to sign up for more years. But that was no longer possible – the reason was me. Because of the incidents described and the conversation with the MAD, they didn't want to extend my military period anymore.
Then it was time for a new professional orientation. There was no doubt about my worldview at that time. Rather, my development was to take me even deeper into the scene. A time when intoxication, violence and ideology determined my life.
The three-part text is based on an interview conducted by the case supervisors of EXIT Germany. For reasons of personal protection, places and names have been anonymised.
*The three-part text is based on an interview conducted by the case supervisors of EXIT Germany. For reasons of personal protection, places and names have been anonymised..
Illustrations: Fabian Wichmann / Text: Fabian Wichmann and Felix Benneckenstein based on several interviews with Ferdinand.
---
Podcast zum Thema Ausstieg
---