Biker Without Bikes – German Nazi Biker Clubs and their position within the right wing extremist movement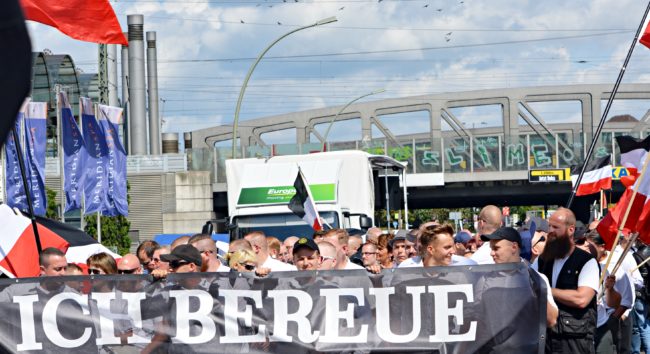 By Elias Vander.
Elias was an active member in the right-wing extremist movement and connected to Nazi Biker Clubs. In this article, he describes the developments and the impact of these groups within the right-wing extremist movement.
Nazi Biker Clubs
All Nazi Biker clubs are structured and set up in a similar way. They differ only slightly in the way they recruit new members, membership fees, or the number of members, but their hierarchy must be strictly adhered to. They share a similar interest in politics, music, and fashion, but sometimes it's simply the feeling of being protected by the community that attracts members.
Clubs like these, become a kind of substitute family. In a literal sense, since you often see your "club brothers" more often than your real family. While the full members discuss important topics and make decisions, the prospects fulfill "lower" tasks. This varies from bartending to entertaining the full members and their friends at night or at parties. The lowest level is the "hangarounds", which are people who show interest in the organization and show up regularly but are no prospects or full members. They imitate the habits of larger non-political biker clubs entirely and attempt to maintain them. The recruitment methods of potential members differ, depending on the club. Here are the five most well-known groups, beginning with the oldest:
"Vandalen Berlin Reichshauptstadt", nickname: "Ariogermanische Kampfgemeinschaft"; est 1982.
The "Turonen Thüringen" is a newer group, but they have established themselves in the movement by organizing political concerts with well-known bands.
The "Barnimer Freundschaft" works very closely with the "Turonen Thüringen" and provides various services together, e.g. as security or bouncers at concerts or admitting guests to events
The "Hermunduren" are befriended with all groups on the list and support them in many ways. The "Hermunduren Thüringen" is a rather small club with few full members.
"Brigade" 8 from Schleswig-Holstein, has several so-called chapters in unknown numbers.
All mentioned clubs let their recruits go through the three stages (hangaround, prospect, member), to check if they and the club are a good match. Their clubhouses are their stomping grounds where they hold events such as member birthdays, meetings, or the organization's anniversaries. Such clubhouses usually also have an assigned "member room", where members would meet, to discuss internal affairs, while the prospects would bartend in the public area of the clubhouse. Some of the clubs have so-called "supporter clubs", which sole purpose is to recruit and provide new members for the parent organization. Just like in non-political biker clubs and gangs, you can identify their members and status by their patches on their jackets, similar to a uniform. After a certain time period, the members are allowed to have the insignia of the club tattooed as well, most commonly the name of the club or their logo.
Public Appearance
The way these clubs present themselves to the outside world attracts people who are already interested in fraternity-like groups. The feeling of being untouchable or being something very special within this movement makes one's own ego grow constantly. Social rules of conduct are not taken seriously or are mocked and even the own family, which is actually an important factor in the movement, becomes less important. Some members don't just have one wife or girlfriend but two or more. While this strengthens their own ego, it ironically is the polar opposite of the "National Socialist" rules of conduct towards one's own family.  Most crimes committed by members of these groups are acts of violence and are committed under the influence of alcohol. Members can often be found in gyms that offer boxing, where they often are being trained for mixed martial arts (MMA) and prepare for street fights.
All these factors lead to the suggestion that the group is untouchable and law enforcement can't do anything against them. Using brutal violence, which happens often, is their way to demonstrate their power over other clubs and their social environment. They perceive the so-called "bourgeoise" as stupid and ignorant.
Their position in the movement
Their exercise of power within the scene has become indispensable because these clubs bring a lot of people to the scene. Their dominance in the right-wing extremist movement has become essential since they recruit a lot of new members. They make their facilities, which are most of the time their own property and sometimes rented locations, available for political events. Right-wing extremist parties like the NPD (Nationaldemocratic Party of Germany) or "Der III. Weg" are also using the influence of these groups to organize bigger festivals or use them for security or other services. You could say that those political parties and their allies are happily using those services and are using those relations for their own benefit. Their violent reputation precedes them as well. When hired for security they deal quite violently with concert-goers when rules set by the organizers are violated.
Friends and supporters of the clubs also show their loyalty by wearing merchandise and advertising them. At the annual celebrations of the "Vandalen Reichshauptstadt" guests can purchase an "Annual Party T-Shirt" and express their sympathy and support for the club. Since the club name is only used by members, the T-Shirts bear its nickname "Ariogermanische Kampfgemeinschaft". These T-Shirts are supposed be worn later by the supporters to advertise for the group. These groups also provide the most known musicians of the right-wing extremist movement and make them available for official concerts which strengthens the movement and their public structures even more. Their position as sponsors and financers of those events show their importance and relevance. Without them, it would be much more complicated to organize and run those kind of events. Due to their aggressive appearance, even the police are holding back more often and are more cautious than they usually would be.
Summary
Even though these groups are acting in the background, they contribute significantly to the existence and spread of Nazi ideology within the far-right extremist movement. The clubs are intensively connected with the right-wing extremist music scene and its protagonists. Very often right-wing extremist bands and their singers have more influence on teenagers and young adults than politicians of right-wing extremist parties. The biggest and better-known bands of the movement are clearly protected by these biker clubs, which bring along a large number of followers and also provide a certain audience.
Acting in the background, the clubs contribute significantly to the existence and spread of the NS ideology within the scene. In most cases, the clubs are also intensively networked with the right-wing extremist music scene and its protagonists. Especially right-wing extremist bands and their singers have a considerable influence on youth. Often more than various politicians of right-wing extremist parties. The bigger and better-known bands of the right-wing extremist scene are clearly protected by such rocker clubs. They bring along a large number of followers and also provide a certain audience.
The bottom line is, that especially these Nazi biker clubs ensure the preservation of the right-wing extremist movement and strengthen it. They develop structures and networks and finance the movement. Without them, the movement would be much weaker and probably much smaller. The dangerous nature of these clubs should not be underestimated in any case!
Foto: Fabian Wichmann